Distracted Driving Legislation Approved by WA Legislature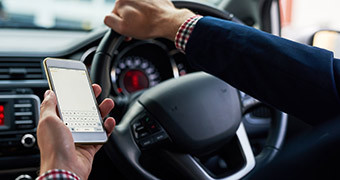 ---
Posted on August 24, 2018 at 10:41 PM
---
SEATTLE, April 20, 2017 – Insurers are applauding Washington legislators the day after they gave bipartisan final approval to SB 5289 – legislation to further restrict cell phone use and other distractions while driving – and sent the bill on to Democratic Gov. Jay Inslee.
"Insurers are pleased that lawmakers came to agreement on this important proposal," said Kenton Brine, president of NW Insurance Council. "SB 5289 measure will begin a process of changing drivers' attitudes about cell phone use and other distracted behaviors while behind the wheel, and that will lead to safer roads as well as help insurers manage rising claims costs from auto accidents – which is good news for consumers."
While the National Highway Traffic Safety Administration (NHTSA) reports that fatal auto accidents across the nation increased by 7.2 percent in 2015, it was much worse in Washington, where distracted driving-related auto fatalities increased 32 percent the same year. A recent observational study conducted by the Washington Traffic Safety Commission (WTSC) reported that 71 percent of the time, when distracted driving was observed in the study, it involved the use of a mobile device (cell phone).
The increase in auto crashes is impacting insurance costs, as well. Nationally, the average expenditure for auto insurance has climbed to $926, and the Washington Insurance Commissioner's office reported that on average, auto insurance rates among the state's top 20 insurers increased 5.9 percent over the past year.
Insurers say loss costs – payments made to treat injuries, repair damaged vehicles and property and defend insured drivers in legal actions – have jumped 16 percent over the past two years. While individual companies weigh rating factors differently, loss costs are typically reflected in premiums paid by consumers.
"The cause-and-effect impact of distracted driving – and in particular, the use of mobile devices while driving – are evident in the data," said Kenton Brine, NW Insurance Council President. "Crashes and fatalities – even car vs. pedestrian accidents – are increasing, and with each new tragic accident come other costs – including higher insurance rates."
If Gov. Inslee signs the measure, it would go into effect in January 2019. Legislators felt it necessary to give drivers more "lead time" to adjust to the new law before it takes effect, and there was concern that enforcement of the new law might be uneven due to the current shortage of troopers at the Washington State Patrol.
The bill would apply the existing $136 fine for cell phone use to all hand held use of a cell phone (with some emergency exceptions) and add such things as viewing videos, scrolling through news feeds and other activities while driving or stopped briefly (such as at a lighted intersection) to the list of prohibited uses. Using a single touch to activate a phone app or program would still be permitted, so long as the phone is not in the driver's hand. A second offense would bring fines of up to $245. Other non-electronics-related distracted driving behaviors would bring an additional $30 fine, but only if a driver had been pulled over for another primary offense. All distracted driving violations would be reported on the driver's record, viewable by insurance companies for rating and underwriting purposes.
Brine expressed thanks to many individuals and organizations who supported SB 5289 and the House companion measure, HB 1371.
"For the families of victims who have died or been severely injured in crashes involving cell phone use, this bill is a great step forward – and many of those families came forward to bravely share their pain and loss with legislators, which surely helped persuade lawmakers to approve this bill," Brine said. "Their support, and the leadership of Sen. Ann Rivers and Rep. Jessyn Farrell cannot be overstated or over-appreciated."
For tips to avoid distracted driving or more information about auto insurance, contact NW Insurance Council at 800-664-4942 or visit www.nwinsurance.org.
NW Insurance Council is a nonprofit, public-education and public policy organization funded by member insurance companies serving Washington, Oregon and Idaho.
View All Posts