Oregon's Distracted Driving Law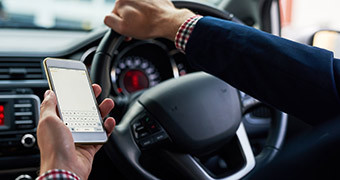 ---
Posted on September 27, 2017 at 11:00 PM
---
Insurers hope Oregon's tough new distracted driving law will reduce car crashes and help manage rising costs
Oregon's new Distracted Driving Law (House Bill 2597) takes effect October 1, 2017, bringing tough new restrictions on the use of cell phones while driving along with steep fines for violators. Insurers say that a dramatic rise in auto crashes and fatalities is impacting the cost of insurance for consumers in Oregon, and they hope the new law will change driving behavior over time to reverse accident and cost trends.
"We are hopeful that the threat of a heavy fine – ranging between $260 and $2,500 – will get motorists to rethink their driving and texting habits," said Kenton Brine, NW Insurance Council President. "Distracted driving causes wrecks and destroys lives – and also impacts the cost of auto insurance, as we've seen in Oregon and other Northwest states."
Recent studies and data have shown the use of smartphones while driving is largely to blame for startling increases in auto crashes. The National Highway Traffic Safety Administration (NHTSA) reports that in 2015 there were 3,477 people killed and an estimated 391,000 injured in motor vehicle crashes involving distracted drivers. The Oregon Department of Transportation (ODOT) reports that from 2011 to 2015 there were 917 crashes - resulting in 14 fatalities and 1,330 injuries - caused by drivers reported to have been using a cell phone at the time of the crash.
Another consequence of distracted driving is how increased auto crashes impact insurance costs. The Insurance Information Institute (I.I.I.) reports that loss costs (the cost of payments made to treat injuries, repair damaged vehicles and property and defend insured drives in legal actions) jumped 13 percent from 2014 to 2016.
While individual companies weigh rating factors differently, loss costs are typically reflected in premiums paid by consumers. The I.I.I. projects that the cost of auto insurance for consumers nationwide increased by an average of 3.4 percent in 2014 to $870 a year, and by another 3.3 percent in 2015 to $899. In Oregon, the most recent data shows the average cost of auto insurance rose from $783 in 2013 to $819 in 2014 - a 4.5 percent increase.
"The cause-and-effect impact of the use of mobile devices while driving is evident in the data," Brine added. "Crashes and fatalities – even car vs. pedestrian accidents – are increasing, so it is not a surprise to see that reflected in insurance rates."
The new law makes it illegal to drive in Oregon while holding or using a cellphone or electronic device, such as a tablet, laptop or GPS. It does allow the use of hands-free and built-in devices so long as interaction is limited to activating or deactivating the device with a single touch or swipe. Beginning October 1, the fine for a first offense will be $260, and a second offense – or a first offense that contributes to a crash – means a $435 fine. A third violation within 10 years could lead to a misdemeanor with six months of jail time and a fine up to $2,500. Violations will be reported on the driver's record, which is viewable by insurance companies for rating and underwriting purposes. Beginning in January, first-time offenders will have the option of waiving the fine if they complete a Distracted Driving Avoidance class. Any driver who is age 17 or younger may not use mobile devices of any kind, even hands-free.
For tips to avoid distracted driving or more information about auto insurance, contact NW Insurance Council at 800-664-4942 or visit www.nwinsurance.org.
NW Insurance Council is a nonprofit, insurer-supported organization providing information about home, auto, business and personal insurance to consumers, media and public policymakers in Washington, Oregon and Idaho.
###

View All Posts