Wildfire Tax on Insurance Premiums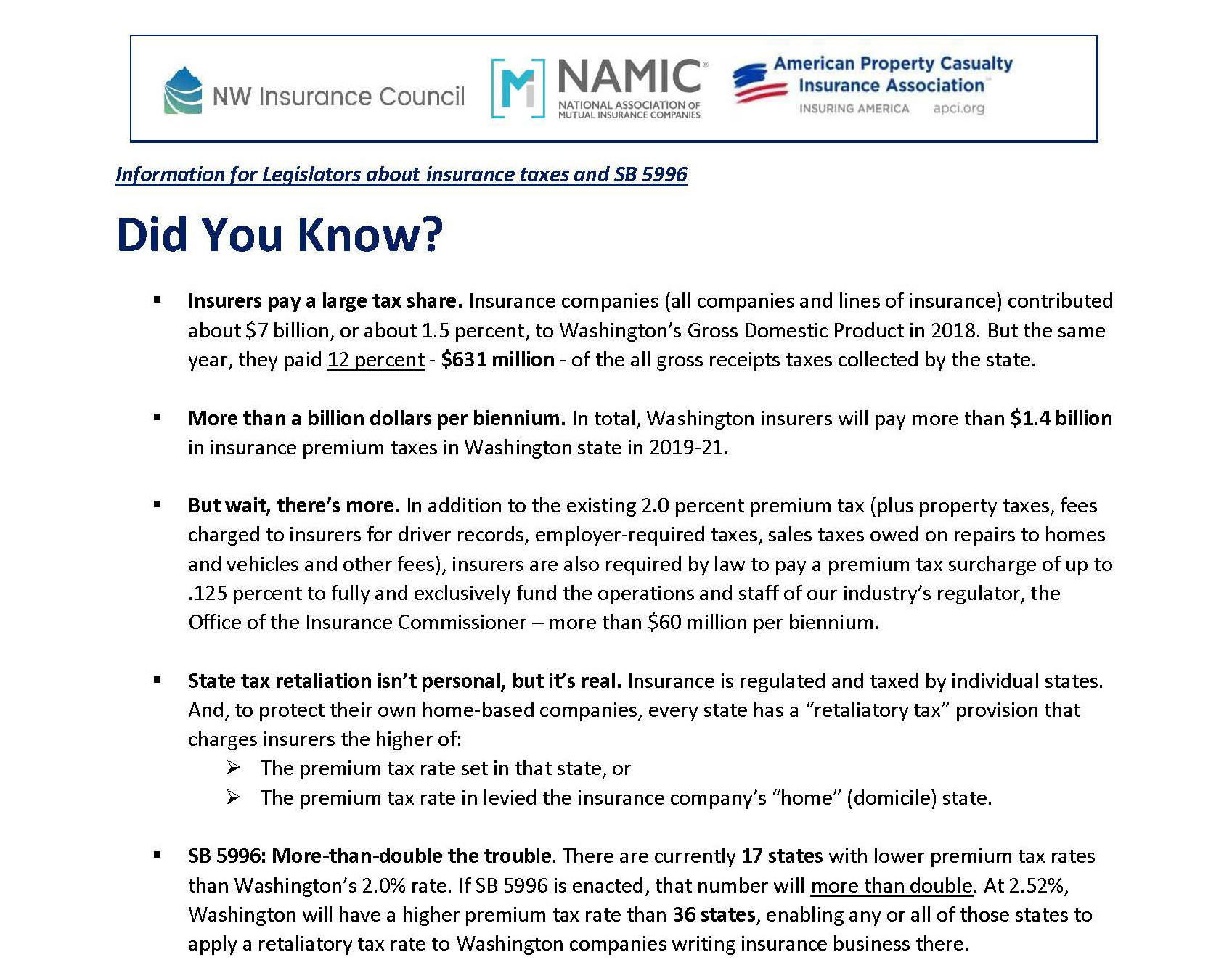 ---
Posted on April 02, 2019 at 07:51 PM
---
Lawmakers propose insurance premium tax increase

SB 5996 could impact the cost of home, auto, business and liability insurance. Insurers say yes to wildfire suppression and prevention, but no to increasing insurance costs.


There is legislation proposed in Olympia (SB 5996) that would increase the state's current tax on home, auto, business and professional/medical liability insurance (all lines of Property & Casualty insurance) by $125 million. Insurers – and policyholders – already contribute $1.4 billion to the state budget under the current 2 percent tax rate.
NW Insurance Council joins insurers and other organizations in supporting the state's efforts to combat the increasing threat and costs of fighting wildfires in Washington, and we support efforts to prevent future summers of smoke and flame with a newly-adopted 20-year forest management plan. But we oppose SB 5996 because is places the entire new burden of paying for increased firefighting capacity and forest health on the backs of insurance consumers – who already contribute to these efforts with existing taxes and who "do the right thing" to protect their homes, vehicles, businesses and families by buying insurance policies.
Wildfires are preventable, and all the state's residents and visitors benefit when fires are prevented, or when they are extinguished quickly if they start. So it makes sense that all residents and visitors chip in if additional funds are needed to prevent and fight wildfires. We are working to urge legislators and Commissioner of Public Lands Hilary Franz to work with us and other concerned organizations to reject higher insurance costs and embrace a true statewide, shared solution.
Find out more about SB 5996 here:
SB 5996: Bad for insurance consumers, worse for Washington-based insurers/employers
Q&A about SB 5996 and the Insurance Premium Tax
Did You Know? Information for Legislators About Insurance Taxes and SB 5996
News Release

If you agree, state legislators need to hear from you. Find and contact your state legislators here, or call the toll-free legislative hotline at 1-800-562-6000 and leave a message for your state Senator.

View All Posts