Flood Insurance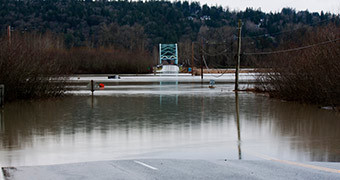 ---
Posted on March 16, 2018 at 10:05 AM
---
Heavy rains remind homeowners: Now is the time to consider Flood Insurance
Heavy rains can bring severe flooding to the doorsteps of thousands of Northwest homes and businesses. Every year floods put people at risk of injury and threaten homes, businesses and vehicles with serious damage that is not covered by standard Homeowners or Business Owners Insurance.
While standard Homeowners and Business Insurance policies do not cover losses by flooding or mudflow, insurance is available for participating communities through the National Flood Insurance Program (NFIP) and may be available from insurance companies in your area.
A 30-day waiting period usually is required before your Flood Insurance policy goes into effect. However, for flooding and mud flows originating from wildfire-burned Federal land, there is an exception to the standard waiting period.
According to NFIP, if a property is affected by flooding on burned Federal land as a result of post-wildfire conditions, a Flood Insurance policy will cover the property without a 30-day waiting period if the policy was purchased within 60 days of the fire containment date and prior to any flooding or mudflow damage to the property.
"The first step to determine if your property qualifies for the National Flood Insurance Program is to contact your insurance agent or your company," said Kenton Brine, NW Insurance Council president, adding that residents can also visit the NFIP website at FloodSmart.gov, enter their address and find out if they are in a flood-prone area.

Water saturation can also lead to landslides, so property owners should also know that coverage for losses that come from landslides are not covered by standard Homeowners policies and are not offered or included in the NFIP. Landslide Insurance requires a Difference in Conditions Policy from a specialty lines insurance carrier.
NW Insurance Council and NFIP offer these tips as you consider purchasing Flood Insurance to protect your home during the rainy season:
Review your Homeowners and Flood Insurance policies now before flooding happens.
Check with your agent or insurance company for more details about how you can protect yourself against the devastating effects of floods and mudflows and to help you get Flood Insurance rates from the National Flood Insurance Program.
If you are at risk for flooding, buy as much flood coverage as you can, up to the value of your home or business structure. Primary residences insured for at least 80 percent of their value, or for the maximum amounts allowed, get replacement cost coverage.
Become familiar with your community's disaster preparedness plans and create a family plan ahead of time, before a flood threatens. Consider preparing a three-day disaster kit.
Develop a home inventory of your personal property.
Consider purchasing optional Comprehensive, or Other Than Collision, coverage to provide recovery from damage to your vehicle from a landslide or flooding.
For more information, contact NW Insurance Council at (800) 664-4942.
NW Insurance Council is a nonprofit, insurer-supported organization providing information about home, auto, business and personal insurance to consumers, media and public policymakers in Washington, Oregon and Idaho.
###
View All Posts